Aladdin and The Wonderful Lamp
- Discover all the grandeur, mystery, and excitement of "The Arabian Nights" favorite in this delightful dramatization of the saga about the boy who found a Magic Lamp, and was befriended by a powerful Genie. 2 Acts. 9 major characters; 4 women (with doubling: 3 women), 4 men, plus the Genie, who can be played by an additional actor, or indicated by special lighting effects. The live Voice of The Genie can be played by the Sultan. Cast size easily expandable to include courtiers, townspeople, etc. Settings: representative pieces indicating multiple areas. Costumes: Far Eastern (Ancient Persian). Approximate Playing Time: 70-75 minutes.
NOTE: Suggested Playing Time is a maximum estimation based on a full-scale production with musical augmentation, set changes and extensive audience reactions. Your own playing time may be shorter.

"Greetings and salutations! Across many centuries I speak to you. My name is Scheherezade. Let me share a tale with you . . . " And so the incredible adventures of Aladdin quietly begin. The son of a poor tailor, Aladdin is a lazy young man, and the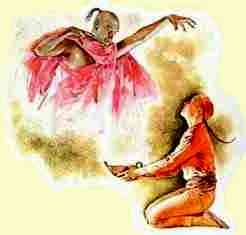 despair of his hardworking mother, who wishes that her son would stop his daydreaming and become more industrious.
Magrabi, the evil Magician, is dangerously ambitious, and hungry for power. Although he's ingratiated himself into the Sultan's favor, he wants still more power; he yearns to possess the Great Hidden Treasure. Since only one who is innocent of the ways of magic may enter The Secret Cave where the treasure lies waiting, the Magician befriends Aladdin, pretending to be the boy's long lost, wealthy uncle. Together they go to the Treasure Cave, and Aladdin enters alone. When he accidentally rubs the dust from an old lamp, a Genie appears, saying: "I am ready to obey thee, Master. What is thy wish?" With the help of the Genie and the Treasure - Aladdin gains great wealth, and wins the love of the Sultan's daughter.

The Magician, Magrabi, however, continues to plot against Aladdin's happiness, and finds a way to steal the Magic Lamp. He then commands the Genie to take Aladdin's palace, the princess, and himself to the other side of the world. The angry Sultan gives Aladdin forty days to find the princess, and on the morning of the fortieth day, he does so. Aladdin, his mother, and the princess devise a way to take the lamp from the magician, and when they succeed, Aladdin commands the Genie take them all home. The Genie obeys, and then bids farewell to Aladdin, who has no further need for the magic powers of the lamp.
Scheherezade speaks - ". . . And so ends the story of Aladdin and his Wonderful Lamp. Aladdin and the Princess lived happily for many years and the city of Baghdad prospered. No one knew what happened to the lamp, however. It simply disappeared one day. Perhaps someday someone else may find it. Perhaps one of YOU may find it. I cannot say . . . "