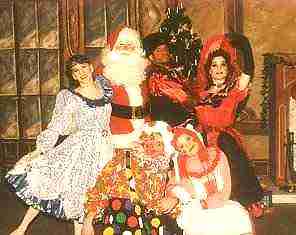 'Twas The Night Before Christmas
- Realistically styled fantasy based upon imaginary speculations about the inspiration for Clement Moore's famous poem. Excellent holiday play for the entire family. 2 Acts. 14 principal characters; 8 women, 6 men, with doubling; 5 women, 4 men. Cast can be expanded, if desired. Setting: Victorian turn-of-the-century drawing room/interior. Costumes: Victorian and fantastical. Choreography suggestions / ideas are in the script. Approximate Playing Time: 75-80 minutes. Some newspaper comments include: "Heartwarming and delightful . . . " - CHICAGO TRIBUNE, "Holiday play a real gem . . . a new tradition." - PIONEER PRESS
NOTE: Suggested Playing Time is a maximum estimation based on a full-scale production with musical augmentation, set changes and extensive audience reactions. Your own playing time may be shorter.


It's Christmas Eve and the Sheldon family awaits the arrival of Scrooge-like Great Aunt Winifred. In the first Act, there is general family good fun between Papa, Mama, and the three Sheldon children including the entrance of some Carolers for a musical/dance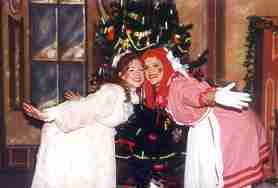 opportunity. Aunt Winifred arrives in her best "Humbug" fashion. Later, after everyone is in bed, Papa stays up working on a poem (the first part of the Clement Moore poem) as a gift for the family. When young Virginia, who can't sleep, asks him to read it to her, he agrees, but tells her to put her slippers on. While waiting for her to return, as Act I ends, he continues to work at his desk, not noticing the light flickering, the sounds of sleigh bells and hooves on the roof, and the increasingly loud chatter of many elfin voices.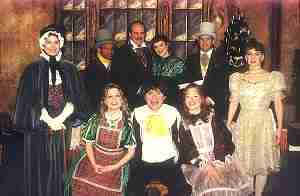 At his desk at the beginning of Act II, Papa is suddenly startled awake by - Santa Claus - in his house! A speechless Virginia enters and suddenly overwhelms Santa with a barrage of questions. To divert her, Santa merrily introduces his special live toy companions. There is Boris the Cossack and Isabella the Spanish dancing dolls. Patches the Clown and sweet Miss Jane, a painfully shy (Raggedy Ann-type) doll (who becomes a special friend to Virginia,) join the ethereal ballerina Lady Anna (representing the warm spirit of the season). Aunt Winifred, as "One Who Does Not Believe," is unable to see Santa and his friends. Santa finds a delightful way to change her into a smiling, laughing "One Who DOES Believe," and, to her shock, she sees all.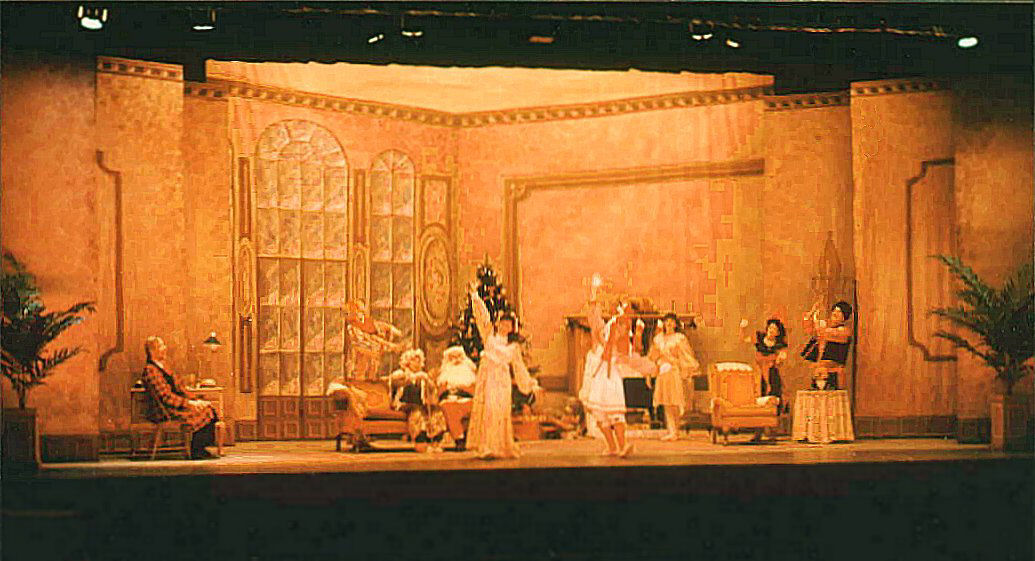 After a splendid musical dancing celebration ending in a grand finale, Santa and the toys are off on their rounds. Papa awakens at his desk and calls out: "Goodbye, Santa! See you next year!" Then he laughs; "it must have been a dream." But Aunt Winifred is still laughing and smiling, and Virginia looks under the tree to find a very special "raggedy" doll who has decided to stay. Papa replies to Virginia's classic question: "If you believe in Santa Claus, Virginia, then he does exist. There will always be a Santa Claus as long as someone believes in him. So I think we can say - yes, Virginia, there IS a Santa Claus." Papa finishes his (Moore's) poem as Santa delivers the final line - "Merry Christmas to all, and to all a Good Night."
Photo Credit: 'TWAS THE NIGHT BEFORE CHRISTMAS Publicity Photos - Various Characters and Set - Classics On Stage! (Chicago)
Click here for a sample of 'Twas The Night Before Christmas.
You will need Adobe PDF Reader - free online - to read the sample. If necessary, click here to download and install Adobe PDF Reader.
"

" Looking For Other Exciting Christmas Holiday Plays?
Click On A "

" Title Below.