King Midas and The Miraculous Golden Touch
- A delightfully humorous (and even environmentally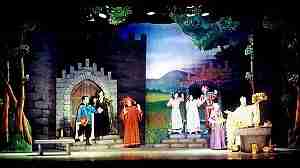 instructive!) clever play based on Nathaniel Hawthorne's story and ancient Greek myth and legend. Eight major characters; 4 women, 4 men. Cast size easily expandable to include courtiers, entertainers, and people of the Kingdom of Myopia. Except for the opening scene, the entire play takes place in the private courtyard of Midas' palace. The opening is simply "somewhere else." Costumes: any regal period except modern. Approximate Playing Time: 75 minutes. (Don't let the "gold effect" deter you from considering a production of this entertaining play. Suggestions for effects are in the script, and we can offer further suggestions for your particular circumstances.)
NOTE: Suggested Playing Time is a maximum estimation based on a full-scale production with musical augmentation, set changes and extensive audience reactions. Your own playing time may be shorter.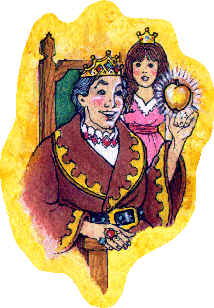 A listing of the characters gives an excellent capsule overview of the play: King Midas of Myopia, Queen Miranda (his wise wife), Marygold (their loving daughter), Sir Calvin the Calculating (Minister of Finance), Lester the Jester and Lorelei of The Lea (professional entertainers employed by Midas), Sylvia the Sybil (a seeress, whose favorite word is "Beware"), and the Narrator, who doubles as the "Mysterious Stranger."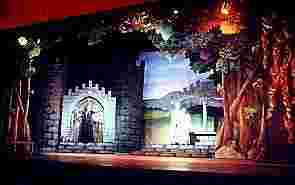 Loveable, but irresponsible, King Midas is the richest person in the world. Yet, he is not satisfied. He wants even more gold. Why? The wise Sybil asks. Oh, he says - just because. Sybil warns him to beware, but he ignores her warning.
When Sybil tells Midas to make an accounting of all he already has, before he demands more, Midas interprets this to mean he should literally add up all of his coins. He and the sly Sir Calvin (who loves to count anything, but especially someone else's money!) undertake the long inventory of riches, and Midas continues to neglect his kingdom and his family in his greedy pursuit of greater wealth.
In the midst of all this accounting Midas receives two visitors. The first visitor is Sybil, who comes to see if Midas has understood her warning. (He hasn't.)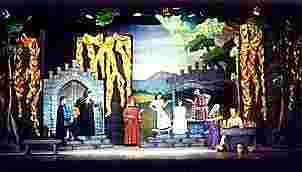 The second visitor is a Mysterious Stranger, who purports to be a Messenger from the Mythological Powers of Beyond Time As We Know It. The Stranger offers Midas the opportunity to wish for anything he desires, anything at all. Naturally, Midas seizes upon this opportunity to wish that all he touches turns into purest gold. The lights darken, thunder rumbles, and lo! The wish is granted.
Initially, Midas is delighted. He has a wonderful time with his new talent, and that first evening he turns everything he sees into gold. By the next day, however, he discovers that the Golden Touch is not quite what he expected. Gifts he tries to bestow are not appreciated, his family and his people are unhappy, the climate is hot and uncomfortable because he has turned the all the trees and Lake into gold, and of course, worst of all! - he himself is very hungry, since all he tries to eat or drink turns into solid gold. When he accidentally turns his own daughter into a golden statue, he realizes that the Golden Touch is not a gift, but a curse.
The Mysterious Stranger returns and Midas begs him to remove the Golden Touch. And so it is done.
Midas vows to change his ways. Even without gold he realizes that he is a very wealthy man.
Photo credit: KING MIDAS and THE MIRACULOUS GOLDEN TOUCH Production Photos - Classics On Stage! (Chicago)
Click here for a sample of King Midas and The Miraculous Golden Touch.
You will need Adobe PDF Reader - free online - to read the sample. If necessary, click here to download and install Adobe PDF Reader.