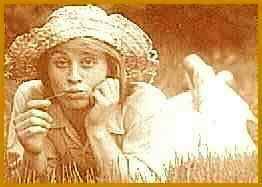 The Adventures of Tom Sawyer
- Excellent adaptation of Mark Twain's classic novel. 2 Acts. Originally written for 14 (including the Narrator) principal characters; 9 men, 4 women, and with doubling could be: 7 men, 3 women. Cast size easily expandable. A pre-recorded or live voice-over narration required. Settings: requires moveable set pieces for multiple area staging. Costumes: Midwestern American circa 1840's. Approximate Playing Time: 75 minutes.
NOTE: Suggested Playing Time is a maximum estimation based on a full-scale production with musical augmentation, set changes and extensive audience reactions. Your own playing time may be shorter.
GENERAL NOTE ON MARK TWAIN'S TIME IN HISTORY: As a reader of this playscript may note, some of the language usage in Mark Twain's time in history (roughly from 1835 to 1910) may be at variance with modern sensibilities. The flavor of the language in this playscript was derived directly from the Twain material. Character names such as "Injun Joe" or references to "that murderin' half-breed" can easily be altered. Such changes do no harm to Twain's or the adapter's intent, which is to tell a good story about growing up in 1840's rural Midwestern America. THE ADVENTURES OF TOM SAWYER was first published in 1876. It is still widely read, and remains the most popular of Twain's many books.

The words of Mark Twain narrate this well structured, faithful dramatization of the well loved adventures of Tom Sawyer. Life along the Mississippi in the 1840's was slow and quiet - for the most part. Still, a boy growing up in those times could often find adventure and excitement, if he was Tom Sawyer, that is. Tom's antics and daydreams fill the play with action, humor, drama and pathos.
All the classic moments, are here; the fence painting, showing off for Becky, dodging the schoolmaster, the tooth-pulling, Tom teasing Sid, and pretending to be sick in an attempt to stay home from school and many more. Despite the constant efforts of his long-suffering Aunt Polly, Tom would rather play hooky and spend time with that "dreadful boy" Huckleberry Finn.
One night when Tom sneaks out, he and Huck are the witnesses to a murder (SEE note above) in the graveyard. Terrified of the killer, Injun Joe, the two boys, and a friend, Joe Harper, all decide to run away. They meet at midnight, and piling their purloined provisions on to a borrowed raft, row out to Jackson island. They've decided to be rich and successful pirates. But, after a few days of swimming, fishing, playing at being pirates, and learning from Huck how to smoke a pipe (which makes them sick), they decide that maybe - just maybe - they're a mite homesick, and as Joe says, he doesn't seem to care as much about swimming, when there isn't anybody to say he can't go.
The boys return home on a Sunday, just in time to hear their own funeral sermon, and stepping forward at a dramatic moment, are delighted when everyone greets them with great joy and affection.
Later in the summer, Becky Thatcher has a picnic party at McDougal's Cave. She and Tom wander off from the others, and are soon lost in the cavern. When Becky grows too weak to walk any further, Tom promises her he'll find a way out. He goes exploring alone and as he wanders deeper into the cave, he finds Injun Joe's hiding place. Joe tries to catch Tom, but Tom narrowly escapes.
Just when he and poor Becky have almost given up all hope - Suddenly, Tom sees a patch of sunlight; he's found a way out of the cave. When he leads Becky out into the daylight, he knows he's earned her undying devotion and gratitude.
Mr. Twain concludes that Tom, now a hero, plans further adventures, all of which will, no doubt, be just as exciting as these.
Click here for a sample of The Adventures of Tom Sawyer.
You will need Adobe PDF Reader - free online - to read the sample. If necessary, click here to download and install Adobe PDF Reader.

A very good study guide for The Adventures of Tom Sawyer
including the entire text of the novel, chapter by chapter analysis of characters,
plot, and the historical period can be found at:
http://www.sparknotes.com/