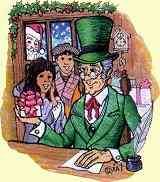 One Magical Christmas Eve
- Newspaper comments include: "A gem for kids." "If Charles Dickens could have collaborated with Walt Disney to create a Christmas fantasy, they might have conjured up a whimsical fable like 'ONE MAGICAL CHRISTMAS EVE.'" Eight actors; 4 women and 4 men can play the 16 plus major roles. Cast size easily expandable. Touchingly humorous and delightfully entertaining Dickensian styled fable. Although the play is mostly original in its overall plot line, strong elements of "A Christmas Carol" and "The Gift of The Magi" are recognizably present. One multiple area setting (a turn of the century village) to depict the interior of Ebeneezer Pinche's shop, and the exterior near the shop (and in Act II usable to be various implied places - a park, the shop, the shop exterior). Costumes: "Dickensian." Approximate Playing Time: 70-75 minutes.
NOTE: Suggested Playing Time is a maximum estimation based on a full-scale production with musical augmentation, set changes and extensive audience reactions. Your own playing time may be shorter.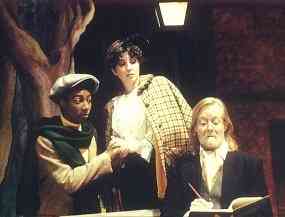 Ebeneezer Pinche, local pawnbroker and postmaster, thinks Christmas is a "humbug," and does all he can to spoil Christmas for the well-intentioned folks in his poor little town. And he almost succeeds. His mean efforts are foiled, however, through the efforts of his over-worked young employee, David, David's best friend, Emily, and by the assistance of a " mysterious stranger" (whose name just "happens" to be Kringle!)
It is Christmas Eve in the little village of Merryville, and everyone is upset because there has been no mail delivery for weeks. When anyone asks about the missing letters or the mail order Christmas presents that they've sent away for, Scrooge-like Mr. Pinche (who runs the only store in town) simply says "Bah!" and refuses to discuss the matter. He is very secretive and defensive, however, about the many large mysterious bags in his storeroom, and furtively moves them out of the way whenever anyone enters his shop.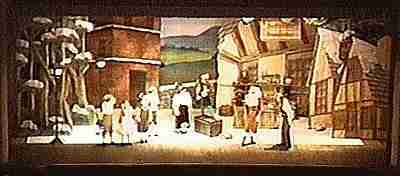 The plot thickens when Emily gives David a book and David reluctantly decides to sell it in order to buy Emily a present. But when Pinche seizes the book from him, "You're not going to read books on MY time!" Emily sells her scarf and mittens to Mr. Pinche hoping to buy it back for David. But Pinche gleefully raises the price so high that she cannot afford it.
David and Emily's friends suffer the same fate. Rosie sells her beloved baseball glove to Mr. Pinche in order to buy her best friend Sam a present. Unbeknownst to her, Sam sells his beloved baseball bat to Mr. Pinche in order to buy HER a present. Schoolmistress Miss Goodwin (who is David's temporary guardian) sells her grandmother's antique quilt to Mr. Pinche in the hopes that she can buy David a small Christmas present. But Mr. Pinche gives them all mere pennies for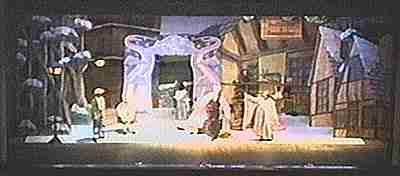 their treasures, and then again raises the prices in his shop so high they can buy nothing. Once again Mr. Pinche has contrived to cheat them all.
Everyone (except Mr. Pinche, of course), is quite understandably sad. However, at this opportune moment a stranger steps forward. His name is Kringle, he says, and he is accompanied by a rather elfin person called Nickie. Mr. Kringle paid a call on Mr. Pinche earlier in the day, and so David has met him, but to the others he is indeed a stranger - a stranger with some strangely cheerful ideas, as they soon discover. Mr. Kringle teaches them about the magic of "invisible gifts."
Naturally, Mr. Pinche manages to spoil their happy moment, chasing them off with his "Bah! I hate Christmas" ringing in their ears. Then for good measure Mr. Pinche also fires young David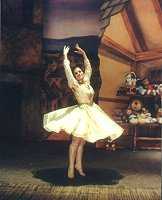 who has the temerity to ask for the wages he has earned.
Later that evening, exhausted from gloating over his success in spoiling Christmas for everyone, greedy Mr. Pinche falls asleep, and while he sleeps he has a magical dream. He dreams that he is visited by spirits (who remarkably resemble some of his neighbors) of his Christmas Days Past and Present, as well as by two spirits (who oddly resemble Mr. Kringle and his elfin assistant) from his Christmas Future.
By morning Pinche sees the error of his ways. When he awakens he realizes he has another chance - a chance to make amends for his mean and miserly behavior. He returns all the letters and presents, vows to reform, and basks in the glow of his newfound happiness.
The story is a joyous one, affirming the interdependence of neighbors and the importance of keeping the very special spirit of Christmas giving alive all year round.
Photo Credit: ONE MAGICAL CHRISTMAS EVE Live Production and Publicity Photos - Classics On Stage! (Chicago)
Click here for a sample of One Magical Christmas Eve.
You will need Adobe PDF Reader - free online - to read the sample. If necessary, click here to download and install Adobe PDF Reader.
"

" Looking For Other Exciting Christmas Holiday Plays?
Click On A "

" Title Below.