A Christmas Carol
- Adapted from Dickens' perennial immortal classic short novel. Two Acts. 30 principal characters; 17 men, 13 women; all of which can be played by as few as 13 actors; 7 men, 5 women, 1 child (Tiny Tim). Cast size is easily expandable. Settings: representative set pieces, indicating a variety of areas. Costumes: English, circa 1840's, except for the flashback sequences.
For larger groups (if you have a group of 25 or more and especially if you have a group of 30 or more) we highly recommend our exciting new EXPANDED CAST VERSION of this play - The Expanded Cast version of A CHRISTMAS CAROL has a total of 42 principal speaking roles plus 7 additional small roles. The script offers a director the further option of adding 4 more speaking roles to the play if needed, and the further option of adding other characters as required. The approximately 50 plus (many of which are gender flexible) roles can easily be performed by a group of approximately 30-35 utilizing the minor adjustments suggested in the script and some judicious doubling.
New characters in the EXPANDED VERSION include - two more loving Cratchit children, Belinda and Robbie, street urchins Molly, Betsy and Georgie, Mr. Phineas Pringle, Young Scrooge's heartless schoolmaster, and Miss Phaedra Pringle, his equally heartless sister - as well as charity collectors Ms. Do-Well and Mr. Worthy, and the three totally delightful fun loving daughters of the Fezziwigs - Flora, Fauna and Fiona - among numerous others.

This EXPANDED script of A CHRISTMAS CAROL (as well as our smaller version of the story) is also very well designed to accommodate "classroom presentation use," "reader's theatre" or "radio" style productions for those groups who want to perform a "theatrical" version of the Dickens material but who don't have the time or the resources to mount a full stage production.
Approximate Playing Time: 70-80 minutes.
NOTE: Suggested Playing Time is a maximum estimation based on a full-scale production with musical augmentation, set changes and extensive audience reactions. Your own playing time may be shorter.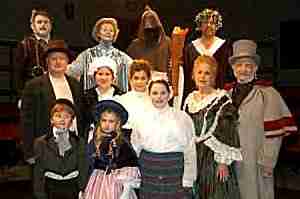 A new version of the story of Ebenezer Scrooge, the miserly old man, who receives a Christmas Eve visit from the ghost of his partner, Jacob Marley, warning him to mend his selfish ways. During the night three spirits appear before Scrooge, showing him visions of Christmas Past, Christmas Present, and Christmas Future, finally revealing the possible results of his unloving, uncaring life. He promises to change; he's not the man he was.
Upon awakening Christmas morning he joyfully flings open his window, and cries out: "Oh, Jacob Marley and Christmas time be praised! I'm still here! (picks up some clothes, drops them, tries to sit, but can't contain himself) I don't know what to do! (laughs) I'm as light as a feather, I'm as happy as an angel, I'm as merry as a school boy! (shouting out the window to passers-by) A Merry Christmas to everybody! (to the audience) A Happy New Year to all the world!" He then proceeds to amaze one and all with his newly found Christmas spirit.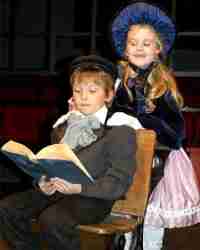 " . . . is not only worth the trip, it IS a trip, and not only for the kids, but for adults, too. It's so close to what adult theater lovers are offered that the kids . . . are engrossed from beginning to end. Even my kids, the original creepy crawlers, watched, breathed, and lived every moment of a shortened, updated version of Charles Dickens' 'A Christmas Carol.' Biggest proof . . . their one box of popcorn . . . lasted each one the entire production, and they didn't fight once! . . .
'A Christmas Carol,' adapted by Michele Vacca . . . is not too very scary, the way the original is. There's a great deal of comic relief provided by . . . Mrs. Dilbur, and . . . Christopher Sly: Raymond, 8 . . . 'I'm glad Scrooge learned his lesson.' Cathy, at 10, has a little more savvy. She watched the play critically, being a veteran theatergoer by now. She liked it . . . and she didn't miss a thing. 'The message of the play,' she observed on the drive home, 'is that everyone should believe in Christmas - or else!'" - Kleiman, Chicago Tribune
Photo Credit: Tyler Civc Theatre (Texas)
Click here for a sample of A Christmas Carol (Regular Version).
Click here for a sample of A Christmas Carol (Expanded Cast Version).
You will need Adobe PDF Reader - free online - to read the sample. If necessary, click here to download and install Adobe PDF Reader.
"

" Looking For Other Exciting Christmas Holiday Plays?
Click On A "

" Title Below.
A very good study guide for A Christmas Carol
including the entire text of the novel, chapter by chapter analysis of characters,
plot, and the historical period can be found at:
http://www.sparknotes.com/