Rapunzel and The Frog Prince
- A uniquely comical and romantic adventure that cleverly blends the two Grimm tales into one story. Two Acts. 5 major characters; 2 women, 3 men, plus 4-6 smaller roles (which can be divided between 2 of the men) plus extras as desired. Settings: (I) the forest, (II) a castle room overlooking and adjoining the royal garden. Costumes: fantastical fairy tale. Approximate Playing Time: 70-75 minutes.
NOTE: Suggested Playing Time is a maximum estimation based on a full-scale production with musical augmentation, set changes and extensive audience reactions. Your own playing time may be shorter.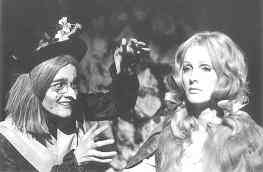 "Children and adults alike can let down their hair and enjoy the fun-filled production of 'Rapunzel and the Frog Prince.' The hilarious play doubles the pleasure by combining two tales by the Brothers Grimm. Michele Vacca's adaptation . . . isn't your standard fairy tale.
The actors cast a magical spell over their rambunctious audience by using quips, frantic antics, and audience participation. Young playgoers . . . scream . . . (and giggle) at the cackling (Witch Jones), who turns handsome Prince Beauregard into a frog so he can't marry Princess Rapunzel . . . (Rapunzel) elicits sympathy as the fair princess in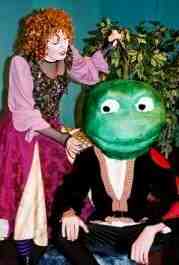 distress who's alarmingly level-headed and more forceful than her clumsy affable prince . . . Rapunzel's bird-watching father (King Alexander) . . . is a character worth snickering at. But (Leroy) . . . charms one and all as the frolicsome gnome who constantly sputters gibberish and pauses only a minute to catch his breath between leaps and bounds . . .
And even though it's obvious that Rapunzel and her prince wind up living happily ever after, the journey through fantasy land is a memorable trip . . . " - Wood, Chicago Sun-Times / Chicago Daily News
"Vacca's adaptation of the two fairy tales is unique . . .
'Rapunzel and the Frog Prince' is everything a children's play should be. The kids were on the edge of their seats as the wicked witch . . . imprisoned Rapunzel in the tower; as Leroy . . . the enchanting witch's gnome, jumped in and out of his stump; and as the klutzy Prince Beauregard . . . stumbled his way into Rapunzel's heart . . .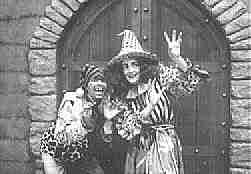 The second act takes place in the king's palace after the prince has been turned into a frog . . . (and Rapunzel has returned home) . . . a series of 'candidates' are presented to Rapunzel in hopes that one will be able to replace her lost Prince Beauregard . . .
But all is not lost, for soon Prince Beauregard, who is now a giant frog, hops on stage and the act quickly finishes with all living happily ever after; that is, except the witch, of course. Witches never get to live happily ever after. But this one is a little more enterprising than most and begins to make a play for Rapunzel's father . . . " - Hoboy, Vidette Messenger, Valparaiso, Indiana
Photo Credit: (top) Theatrical Productions for Children (Chicago), (right) The Company OnStage (Houston), (bottom) Classics On Stage! (Chicago)
Click here for a sample of Rapunzel and The Frog Prince.
You will need Adobe PDF Reader - free online - to read the sample. If necessary, click here to download and install Adobe PDF Reader.