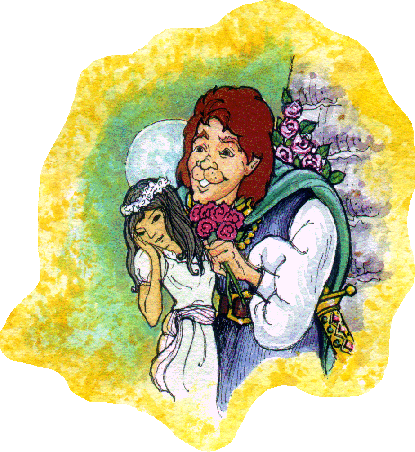 The Beauty and The Beast - An enchanting, romantic and warmly amusing dramatization of the beloved tale. We have TWO versions of the script available; The EXPANDED cast version: As many as 50 roles ( 8 principal roles, plus numerous smaller speaking roles) can be played by as few as 8 or by as many as 50+ (or any number in between). Doubling suggestions are in the script. The ENSEMBLE (smaller cast) version: Eight actors (4 women, 4 men) play the numerous enchanted and enchanting characters who fill this delightful version of the beloved tale about love and loyalty. Settings: Act I requires simple flexible changeable areas. The end of Act I and all of Act II (except for one short scene) take place in the courtyard / garden atrium of The Beast's castle. Costumes: Fairy tale. Approximate Playing Time: 75-80 minutes.
NOTE: Suggested Playing Time is a maximum estimation
based on a full-scale production with musical augmentation,
set changes and extensive audience reactions.
Your own playing time may be shorter.
When ordering this play please specify whether you want the
EXPANDED cast version or the ENSEMBLE version.

Florabunda, the Enchantress, is the hostess and narrator. She begins the play by gathering a troupe of players about her, and assigning them roles. Then the action begins. During the course of the play some of the actors don various "hats"- assuming the guise of nosy neighbors, castle attendants, public officials, farmers, admiring suitors and the like. Belinda, the heroine, is a young woman of strong opinions, education and talent. She is also beautiful, and has many suitors. Her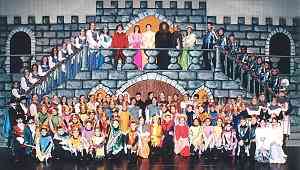 proud father, Henry Beaumont, declares to his friendly, but uncomprehending neighbors, that his daughter is so smart, she might even become a rocket scientist!
One day, disaster strikes. Haughty Prince Philip and the town officials descend upon the Beaumonts, and declare Henry bankrupt. Left with nothing, he and Belinda move to the country, and attempt to eke out a living as farmers. Despite generous assistance from his nosy, well-intentioned neighbors, Henry is a not a very good farmer, and when his long lost ship appears in the harbor, he is overjoyed. His hopes, however, come to nothing, and on his way home he mistakenly wanders into the garden of the legendary Beast. The angry Beast reluctantly promises to spare Henry's life, but only if Belinda agrees to live in his magnificent castle. Despite Henry's objections, Belinda insists upon doing as the Beast requests.
With more than a little trepidation, she begins her new life. The nosy, well-intentioned castle attendants do their best to make Belinda welcome, even though the Beast makes this task quite difficult at times. Belinda and the Beast have their inevitable ups and downs; at first they often disagree (mostly about his manners, which are deplorable). Gradually, however, they become friends, and inseparable companions.
When Belinda leaves to visit her Father, she tells the Beast not to worry; she'll be home in three days. The Beast is saddened by her departure; he just knows she'll never return to him - why should she? She does return, however. She and the Beast both realize how deeply they care for each other. Belinda has learned to value the Beast despite his appearance. The Beast has learned that he can be loved for himself. The spell cast on him by Florabunda is now broken, and the story ends. "Watching Belinda tame the Beast is almost as enjoyable as watching the Beast become 'tame.'"
Photo Credit: Children's Theatre of Elgin, IL (photo - Greg Cherry)
Tip: If you're looking for music to enhance your production, www.sheetmusicplus.com has a variety of formats available. They also offer discounts for many of their materials to schools and other groups.
Click here for a sample of The Beauty and The Beast (Regular Version).
Click here for a sample of The Beauty and The Beast (Expanded Cast Version).
You will need Adobe PDF Reader - free online - to read the sample. If necessary, click here to download and install Adobe PDF Reader.