The Princess and The Pea - An ingeniously hilarious and highly entertaining version of Hans Christian Andersen's very short story. Multiple professional productions such as those at Casa Manana in Fort Worth, numerous productions by all sizes of community and academic drama groups attest to the universal, enduring appeal of this very popular, long-time favorite of theatre companies and schools. 2 Acts. 11 major characters; 3 men, 8 women (or with doubling; 3 women). Cast size easily expandable. Settings: simple moveable pieces, designed for multiple area staging. Costumes: fairy tale. Approximate Playing Time: 65 -75 minutes. For larger groups we recommend our equally delightful and enchanting Expanded Cast Version of this script, designed for a flexible cast size of 20 to 40+ which offers an adaptable total of 34 speaking roles, (25 women and 9 men - many roles gender interchangeable).
NOTE: Suggested Playing Time is a maximum estimation based on a full-scale production with musical augmentation, set changes and extensive audience reactions. Your own playing time may be shorter.
The Expanded Cast Version of THE PRINCESS AND THE PEA includes all of the original characters (described below), plus a delightful collection of unforgettable additional characters - the new Princess candidates for the hero, Prince Valiant, to consider as a bride (or as you will see - in many instances, they "consider" him!) include Princess Purity of Spotless ("devoted to the destruction of dirt, dust and debris"), Princess Allergica of Hypochondria (need we say more?), Princess Zebrina from the Zynet Galaxy (and her cohorts, the Zingons), "Valley" Princess Starbie from Tinsilicon, and others. Meanwhile, back at the castle, another host of new characters appear - including Jackie the Jester (Who Yearns to be a Serious Musician), Sir Swagger, Sir Squint and Sir Stonewall (Loyal but Bumbling Knights of the Realm), and the Ladies-In-Waiting to The Queen: Lady Lilli (Keeper Of The Royal Tiara), Lady Lizzie (Keeper Of The Royal Gloves), and Lady Lulu (Keeper Of The Royal Handkerchief).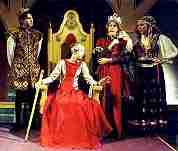 King Maximillian of Maxwell-by-the-Sea and his mother, Ancient Queen Maude, summon Esmeralda Smythe, the only, and therefore, wisest, gypsy in the kingdom. According to the Ancient Book of Wit and Wisdome, Esmeralda says, the Prince must now go on a journey to seek a bride. If he finds no one suitable, he must return home to wait for a bride to come to him.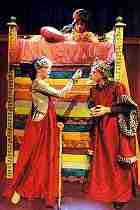 Esmeralda can't say why this is so. She interprets the law; she doesn't explain it.
Therefore, Prince Valiant, armed with pocket gold from Father, extensive advice from Granny, accompanied by his loyal squire, Donald Dunce, begins his search for a REAL Princess. During his journey, he meets a number of quite unusual princesses, but, after a while, he's still undecided, and so one day he decides to return to his home kingdom.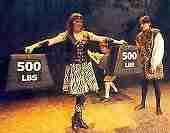 That evening, in the midst of a great storm, Princess Olivia arrives at the castle gate. Valiant immediately likes her, and asks Granny to give her the family's REAL PRINCESS TEST. Granny agrees to arrange the Test, although she's somewhat suspicious about any princess who turns up at the castle gate in the middle of the night - and soaking wet, too!
Secretly placing a small dried pea under a huge stack of mattresses, Granny privately explains to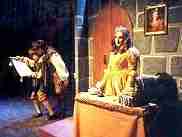 King Maximillian that if Olivia can feel that one pea through all those layers of bedding, she is a Princess of the truest Princessness, and worthy to marry into the family.
Unknown to Granny and the King, Donald overhears this conversation. He's grown very fond of Olivia's companion, Lady Hildegarde (who also likes fishing and chocolate cake), so he decides to make SURE Olivia passes the Test. Quietly sneaking into the bedchamber, he piles rocks, pots, and other large and lumpy objects under the top mattress.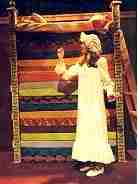 After everyone (especially Olivia!) spends a sleepless night, the morning reveals that she passed the Test! Yawning, everyone all happily agrees to catch up on sleep first and celebrate later.
Even though she is very tired, it seems that poor Olivia still can't sleep, even though Donald wisely took the precaution of removing the all the rocks, and so on. She tosses and turns uncomfortably, until finally, looking under one of the bottom mattresses, she finds the pea.
She removes it, and settles down to sleep, proving that she is indeed a REAL princess of the truest Princessness.
"Dear Classics on Stage,
I just wanted to tell you thank you for a great script of "The Princess and the Pea" that helped make our production such a success this year. It ranks up there with my favorite children shows of all time that I have directed. I enjoyed working with you and I plan to do so again next year. Thank you,"
- Brian Adams, Director of Theatre - W.F. West High School
Photo Credit: Valley Youth Theatre (Phoenix AZ)
Click here for a sample of The Princess and The Pea (Regular Version).
Click here for a sample of The Princess and The Pea (Expanded Cast Version).
You will need Adobe PDF Reader - free online - to read the sample. If necessary, click here to download and install Adobe PDF Reader.