Jack and The Beanstalk
- Entertaining and cleverly imaginative popular version of the favorite British folk tale. 2 Acts. 8 major characters; can be played with as few as 7 actors; 3 men, 3 women, plus Clarabelle the Cow (man or woman). Settings: pieces to represent (Act I) Jack's home, and (Act II) the Giant's home. Costumes: fairy tale. Approximate Playing Time: 70-75 minutes.
NOTE: Suggested Playing Time is a maximum estimation based on a full-scale production with musical augmentation, set changes and extensive audience reactions. Your own playing time may be shorter.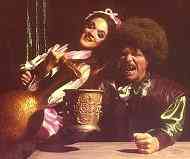 Clarabelle the Cow greets the audience and confides in them she's worried that Jack and his poor Mother may have to sell her, their beautiful cow. Jack vows that this will never happen, but as it turns out, Clarabelle was right.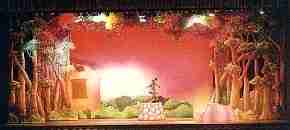 When Jack's Mother tells him they have no more money to buy food, and since he's too lazy to work, he knows they have no choice. Jack must take Clarabelle to market and sell her. "Poor Jack," sighs Clararbelle. "Poor Clarabelle," sighs Jack. And so - even though Clarabelle is Jack's very best friend, he knows his Mother is right. Sadly, he leads Clarabelle away, and sets off for the market.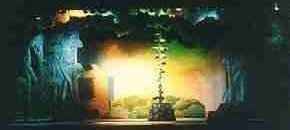 On the way, however, he meets Harold H. Fairdeal, alias Zeke the Sneak, the wandering gypsy. Harold, amazed to meet a talking cow, persuades Jack to trade her in exchange for a handful of wonderful "magic" beans. Jack cheerfully agrees, convinced that once he makes his fortune, using the magic beans, he'll buy Clarabelle back.
Jack's Mother, however, is so angry with her dreamer son, that she throws the beans into the well. When suddenly an enormous beanstalk grows, Jack ignores his Mother's protests, and eagerly climbs to the top. Once there he is dazzled by the home of Tyrone the Giant, Eggberta the Golden Goose, and Beautiful Brunhilde the Magic Harp. Tillie, the giant's kind-hearted, easily flustered wife, discovers Jack at her door, and quickly hides him. Tyrone doesn't like strangers.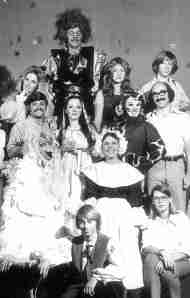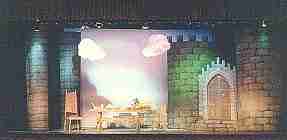 When Tyrone arrives, bellowing for his supper, Eggberta and Brunhilde compete for his attention, each claiming to be his favorite. Ignoring all comments about his dreadful table manners, Tyrone gobbles his food noisily, throwing it on the floor, wiping his mouth on his sleeves. Finished with supper, he takes a nap. Jack comes out of hiding and persuades Tillie, Eggberta and Brunhilde to return with him to earth, since they've never been there. As they all tiptoe away, Tyrone awakens. A mad chase ensues, but they escape.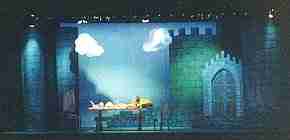 Very soon after arriving on earth, however, the three begin to miss the Giant. Then they hear Tyrone's tearful voice, begging them to come home. He sobs that he misses them, too; there's no one to yell at. In a flash of lights they disappear. Jack is alone, and back at home.
Was it all a daydream? Clarabelle, who ran away from Harold, and Jack's mother don't believe a word of the story, until they find a basket of golden eggs in the garden.
Jack smiles; maybe his adventure wasn't a dream, after all.
Photo Credits: (left top) Mill Run Children's Theatre (Niles, IL), (left bottom) Theatrical Productions for Children (Chicago), (right side) Classics On Stage! (Chicago)
Click here for a sample of Jack and The Beanstalk.
You will need Adobe PDF Reader - free online - to read the sample. If necessary, click here to download and install Adobe PDF Reader.