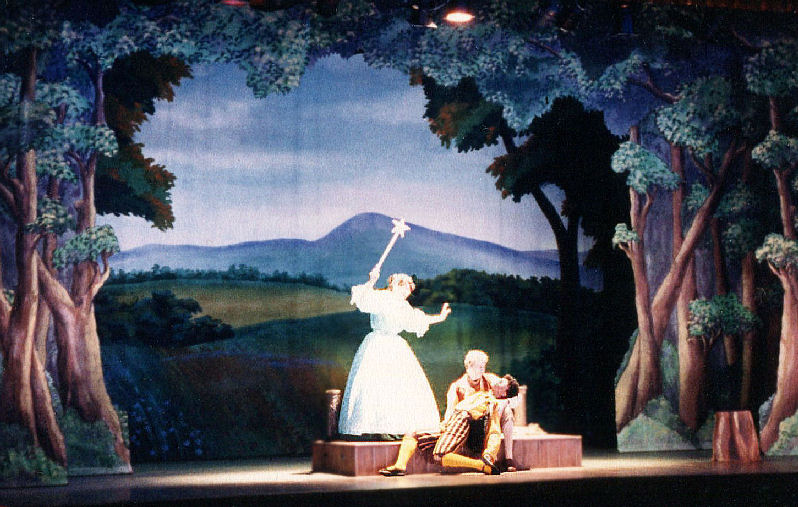 Pinocchio!
- Highly acclaimed, captivating and exceptionally playable adaptation of the Carlo Collodi novel. Two Acts. 12 major characters which can be performed as 2 women and 10 men - or just the opposite (2 men and 10 women) - since many characters don't have to be gender specific - plus The Voice of the Talking Cricket which can be played by one of the other principal actors, or cast separately. For a smaller cast doubling can reduce the company size to 7. For larger groups we recommend our EXPANDED cast version of this script, which has a total of 33 speaking roles (the original 13 principals plus 20 smaller roles - townspeople, additional puppets and performers at the puppet theatre, and other boys and girls who are tempted to make the journey to the Land of the Dingalings), and can even be expanded further if desired. Settings: requires simple representative pieces. Costumes: "storybook" "Italian" fairy tale. Approximate Playing Time: 70 to 75 minutes.
NOTE: Suggested Playing Time is a maximum estimation based on a full-scale production with musical augmentation, set changes and extensive audience reactions. Your own playing time may be shorter.
When ordering this play please specify whether you want the
EXPANDED cast version or the ensemble cast version.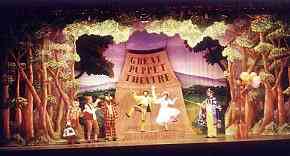 "The little puppet with the long wooden nose is getting into mischief again, this time at Marriott's Lincolnshire Children's Theatre . . . 'Pinocchio,' the venerable children's tale of a sweet-but-silly puppet that comes to life . . . attains moments of real theatrical magic.
The best of these occurs when Pinocchio comes to life . . . Pinocchio at first droops motionless atop the work table on which he was carved.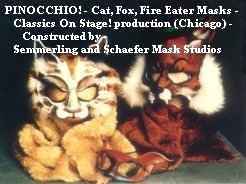 But as Geppetto the puppet-maker looks away to reach for a paint brush, Pinocchio leaps across the table. The puppet master can't understand how the wooden figure seems to change its position every time he glances away, and the kids in the audience roar with laughter as they wait for Geppetto to discover what they already know: Pinocchio is no ordinary puppet.
Before long, Geppetto and his creation are carrying on like old friends, and one of the play's most amusing sequences is Pinocchio trying to master the difficult skills of walking and talking. The puppet points to a foot and calls it his nose; he motions to a chair, calling it a school. And once he has the vocabulary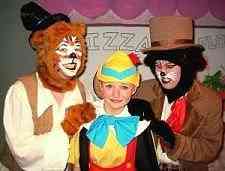 thoroughly confused, he jumps from the table to test his rickety puppet legs. He bobs around the workshop with the greatest finesse, until the momentum of his effort sends him tumbling into a high speed pratfall.
Pinocchio's curiosity leads him, of course, to run away from home in the pursuit of adventure; and whenever he finds himself in a jam he meets up with . . . the Blue Fairy . . . whenever she soars onto the stage, the young audience seems transfixed in her presence-wondering, perhaps, whether fairy spirits really do exist. But, if the Blue Fairy is always there to bail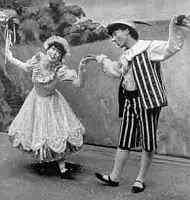 Pinocchio out, the mischievous Candlewick seems just as likely to cause trouble. He lures the puppet into every prank and scheme imaginable . . . " - Reich, Chicago Tribune
In the end, however, Pinocchio finally proves that he's learned to be brave and unselfish. The Blue Fairy grants the lonely Geppetto's wish for a son of his own, and Pinocchio awakens to find that he has become a real boy at last.
Photo credits: PINOCCHIO! production and publicity photos - (lower left) Rockingham Theatre Company, Australia , (all others on page) Classics On Stage! (Chicago)
A special version of the Classics On Stage! script of PINOCCHIO! recently played over 100 performances in the Lilly Theatre at the beautiful Children's Museum of Indianapolis!
Click here for a sample of Pinocchio! (Regular Version).
Click here for a sample of Pinocchio! (Expanded Cast Version).
You will need Adobe PDF Reader - free online - to read the sample. If necessary, click here to download and install Adobe PDF Reader.