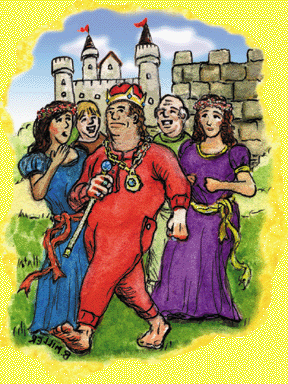 The Emperor's New Clothes
- Highly entertaining, clever telling of the popular Hans Christian Anderson fable about the pitfalls of vanity and greed. 2 Acts. 7 major characters; 3 women, 4 men. Cast size easily expandable to include a multitude of courtiers, and citizens of the kingdom. One main setting for multiple area staging. Costumes and Setting: fantastical Far Eastern. Approximate Playing Time: 70-75 minutes.
NOTE: Suggested Playing Time is a maximum estimation based on a full-scale production with musical augmentation, set changes and extensive audience reactions. Your own playing time may be shorter.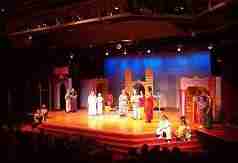 His Imperial Majesty, the most serene, royal, magnificent, wondrous, unique, and-above all well-dressed Emperor Abu Abdullah Abdul, ruler of our Glorious Land, Zanadum Zanadu Zan, spends all his time and country's gold on clothes. When the treasury is almost empty, Lord Babah, Prime Minister in charge of the Emperor's Wardrobe, is forced to put a tax on peanut butter, the National Favorite Food. The Emperor's 129 year old Granny does all the palace laundry. His wife, Empress Fatimah, hasn't had a new dress in a very long time. No one will work at the palace, because he never pays anyone. He possesses hundreds of fashionable tunics, trousers, vests, slippers and turbans. Nevertheless, Abu decides he has "nothing to wear," and needs new clothes for the Great State Occasion in three days time.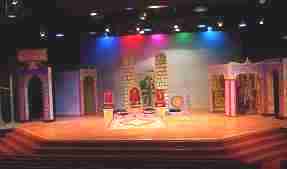 A Pompous Proclamation lures two swindlers, who call themselves the Ali Brothers, claiming descent from a long line of royal clothing makers. Addressing Abu as "Oh Great Color-Coordinated King," they brag that the clothes they create will possess a "mysterious, peculiar quality:" they will be INVISIBLE to the "dull and foolish" and to those "unfit for their positions." Abu, delighted, immediately sends a reluctant Babah to fetch bags of gold and jewels, which the overjoyed swindlers proceed to pack into their bags. By chance, however, Fatimah overhears the two swindlers plotting, and realizes they are thieves. She tells Granny, who suggests they not tell Abu, but let him find out for himself. Maybe all this will teach him a good lesson.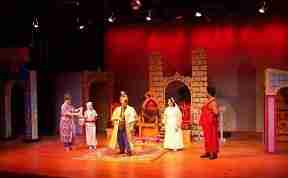 The three days pass, and all assemble to see the Emperor don his new clothes, even though no one can see them. Abu "puts them on" and goes off in the Procession. When the people laugh at him, he realizes he's made a foot of himself, finally admitting he was swindled. He vows to reform, promising Fatimah that he'll give away most of his clothes, hire someone else to do the laundry so that Granny can rest, he'll never use the country's gold to buy new clothes again, and furthermore, he'll remove the tax on peanut butter! Granny then shows Abu the bags of gold and jewels she retrieved from the swindlers, declaring that she is personally going to chase them out of the kingdom.
And she does.
Photo Credit: South Suburban College, South Holland, IL (Director - Ellie Shunko, Set Design - Vernon R. Schwartz)
Click here for a sample of The Emperor's New Clothes.
You will need Adobe PDF Reader - free online - to read the sample. If necessary, click here to download and install Adobe PDF Reader.